As a manufacturer of quality temperature instrumentation, Miljoco Corporation has long been an advocate of food safety and what better way to promote safe food storage and cooking then to offer products specifically designed for these purposes.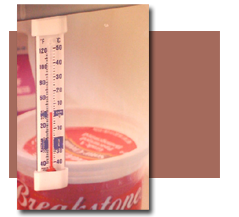 S3513091Z Refrigerator/Freezer Thermometer
The popular hanging refrigerator/freezer thermometer with blue safe zones is a fine example of dedication to simplistic temperature reading. This product is NSF listed and indicates the safe temperature for food storage in a refrigerator or freezer. When the top of the red spirit (non-toxic, no mercury) is in the blue, the temperature is safe. This unit indicates temperature in a hanging or lay flat application.
B1098M82C-5.0 Pocket Thermometer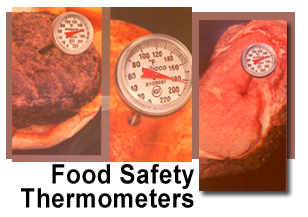 The pocket (meat) thermometer is NSF listed, has a magnifying lens for easier reading and has a "no tools required" calibration feature. With the sheath pushed tight against the bottom of the thermometer head, calibration can be adjusted by turning the sheath so that the top of the metal pocket engages with the small lug and moves the pointer, This unit should be used only for checking temperature, not for remaining in the product during cooking.
Calibration & Cleaning Instructions
M2040 Series Food Safety Magnets
Demand from our many foodservice customers prompted us to make available the food safety message magnets which include guidelines for proper food storage temperatures, hand washing, cutting board, and recommended safe internal temperatures for meat, poultry etc. Across the board these products exemplify the dedication to quality that's put forth in our manufacturing facility.
Products that represent our constant goal of food safety first!